MOUNTING
2 meter wide machine to mount and laminate pictures, documents and Art works.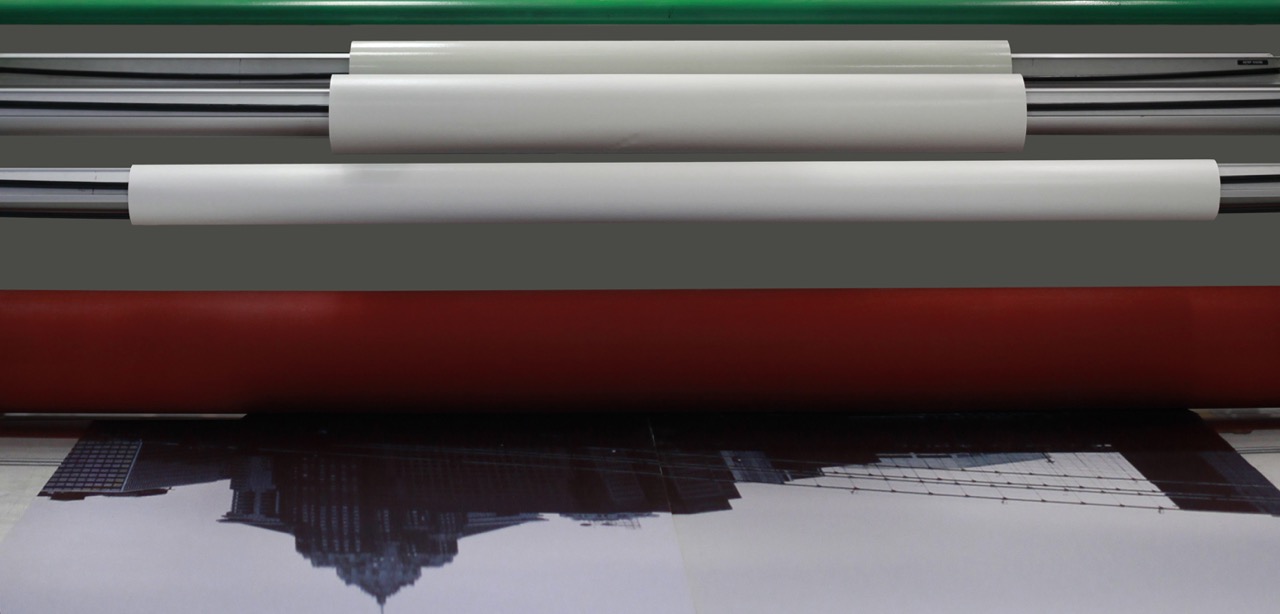 • FOREX WHITE
White, rigid plastic sheets made up of PVC. Self-extinguishing. Outdoor and indoor use. Available in different thicknesses 1-2-3-5-8-10mm.
• FOREX COLOR
Same characteristics as the White Forex. Exists in black-gray-blue-yellow-green and red.
• DIBOND
Aluminum composite sheets. The panel combines two aluminum surface layers with a polyethylene core. Front and back are either stove lacquered, with white, black or colored surfaces matt or high –gloss and anodized. Absolutely flat, high stiffness and high corrosion resistance. Low thermal expansion compared to plastics. Low weight compared to full Aluminum. Indoor and outdoor use. Ideal for large formats, exhibitions, Art mounting, decoration. Exists in 2 - 3 - 4mm.
• FOAMBOARD
Lightweight foam board with polyurethane foam core and multi-layered (paper and aluminum) impregnated liners on both sides. Excellent stiffness, extremely light and dimensional stability. Rather fragile in the corners. Used for exhibitions, shop windows, short time exhibitions. Exclusive indoor use. Exists in 5 - 10 - 13mm in black and white.
• WOOD
MDF and melamine only interior use. Exists in 6 - 8 - 12mm
PROTECTION OF PHOTOS
Matt-satin and high gloss. Protects pictures, documents indoor as well as outdoor use. These films give your pictures a matt, satin or high gloss appearance and protect against degradation due to moist, water, scratches and light. The films have an inbuilt UV filter.
FRAMING
Mounting of canvas on chassis. Different kinds of frames on demand: wood - aluminum - American box.
DIASEC
Mounting of a print against a transparent plexi glass with a plexi glass back or a back in dibond. Gives an unbelievable depth and brightness to colors.
HANGER SYSTEM
Aluminum profiles on the back of the mounted print.